As of lately, I've been building and prototyping a blog that I've previously built with Eleventy. Eleventy is similar to Hugo in many ways, so I was thinking porting that blog theme and making it a Micro.blog powered blog.
One thing that I immediately realized though is that as I've used frontmatter in posts and pages, that would not work in Micro.blog as far as I know? Basically, I'd at least would like to have the ability to define a post / page featured image. A single post would then look something like this: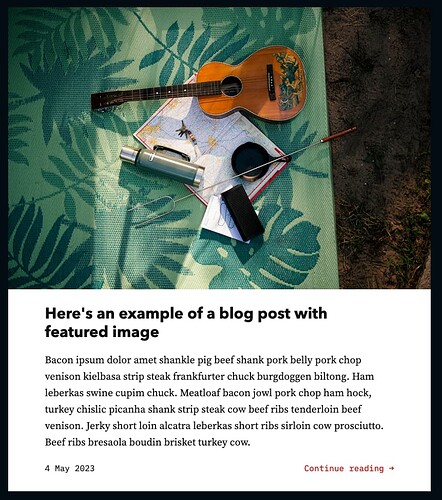 That featured photo could then be used in social media posts too, if cross-posting straight from micro.blog. I guess that as of currently, the first picture attached to post is used in social media posts?
Is there a way (or workaround) to accomplish this somehow on Micro.blog? For example, would it be possible to add featured image via the micro.blog post/page editor itself in the future (upload featured image or use url for that image, some Unsplash photo url for example)?
Just thinking out loud here, I guess

Cheers!