Hi, I've changed my domain name and so the url of my blog. Under "Account" it states the new domain correctly "Blogs: marco.tmi.lol". But in the Feeds section above it still has the old domain listed: "https://mb.tmi.lol/feed.json". Shouldn't this change by itself?

Am I supposed to change this manually? Do I have to delete the old feed and add a new one, if yes, do I have to do it under "Add posts to Micro.blog timeline" or "Import posts to blog: esamecar.micro.blog"?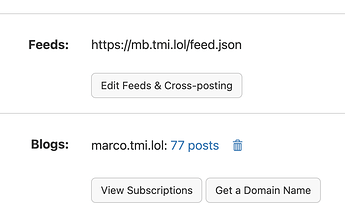 (I'm really trying hard, but somehow I still don't really understand the basic concept of mb. It happens to me so often that I don't know if something is a bug or feature or if I'm just too stupid, or if things weren't implemented quite consistently. But that's another story.)
Help would be much appreciated. Thanks!