I have the default - To Read, Finished Reading, and Currently Reading - bookshelves. Before Micro.blog made the change a few weeks ago, I also created custom shelves for each year e.g., Read in 2023, Read in 2022, etc. Thanks to Micro.blog's change behind the scenes, each of these shelves are assigned the "finished reading' type.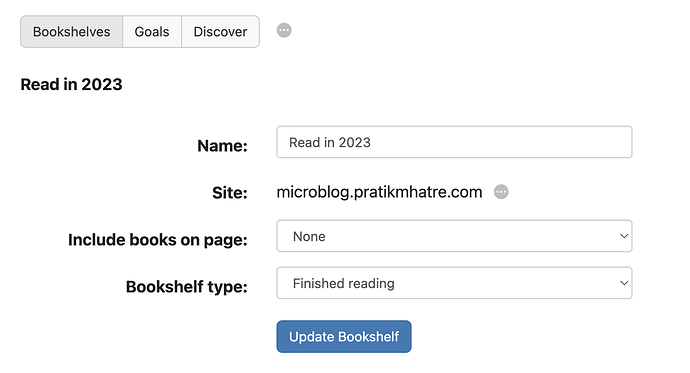 However, due to this change, books can now belong either in the main Finished Reading or the Read in XXXX. This is not an issue coz I choose to display books read by their Year Read on my blog. But for the Goals feature in Epilogue, it only recognizes books in the main Finished Reading shelf.
So currently, my hack after finishing a book is to move it to the 'Finished Reading' shelf, blog about it, browse over the to Goals tab, and make sure it shows up there (sometimes you have to click away and click back to the tab) and only then move it to the 'Read in XXXX (year).'
This is only for any new books I add after the change was implemented in the backend. Also, there is no way to remove a book from a Goal. Currently, I have a book that I had read in previous years but is showing up in the 2023 Goals thus inflating the count. I couldn't see a way to remove it.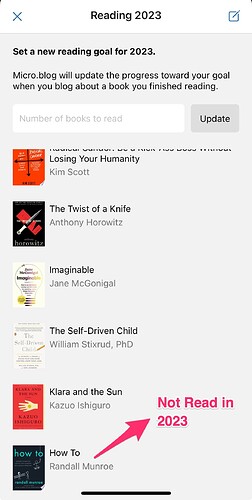 Also, is it possible to move the custom bookshelves around? My current year 'Read in 2023' is at the bottom and I wish it were near the top so I can add to it quickly.