Okay @manton, I have more server weirdness to pick your brain over.
After using Cloudflare to address the SSL for the moondeer.art domain that I point to the site served for me by FineArtAmerica, I dove into using Cloudflare with moondeer.blog.
This may or may not have been what resolved my Twitter card crawler issue (still kind of a blackbox for me). Regardless of that it is has been interesting seeing what all can be done between the DNS point and what Cloudflare calls the origin server.
Things mostly work great … but I started noticing recently (perhaps coinciding with the upcoming server update you mentioned, perhaps not) that occasionally a page doesn't load … ultimately resulting in an SSL handshake failure between Cloudflare and the origin server. Thus far, the next attempt immediately succeeds. I wanted to share Cloudflare's presentation of what is happening and see what you thought.
The error code: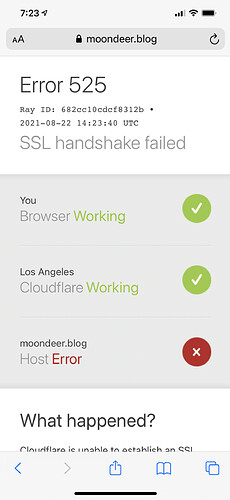 The conditions: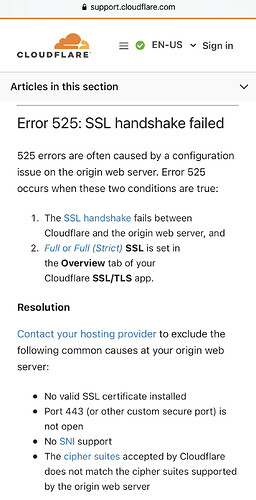 And what most interests me on account of the intermittent nature of the failure … checking logs for the SSL error: